---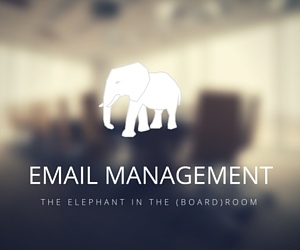 Business email has evolved. The HTML styled missives you receive today bear little resemblence to the first QWERTYUIOP punched out by Ray Tomlinson in 1971.
While the look and underlying technology have changed enormously over the last 40-odd years, most significant has been the change in the role of email in business.
No longer simply a straightforward message exchange, many people are surprised to learn that email communications can be enforced as legally binding documents.
Australian courts have taken a more active approach to technology than many realise. In fact they have responded to the universal acceptance of email as a form of business communication by accepting, and upholding, email exchanges as binding agreements. Even holding businesses accountable for terms where an exchange includes "subject to contract" or "subject to formal approval" references.
Quite aside from the legal ramifications this presents, common workplace practices have not kept pace with the changing importance of email as a business document for most of us.
When your business may be required to produce email records to defend a claim for breach of contract, being able to accurately locate relevant emails has the potential to save more than just a bit of time. Your business needs to be able to:
accurately identify emails relevant to a matter according to a common set of search parameters;
easily access those emails, regardless of who sent them and whether they are still working with you or not;
ensure that emails are retained in accordance with various legislative requirements. Organisations also have a common law obligation to retain all documentation that may become relevant to litigation at a later date, and in some states to dispose of such documents is a criminal offence.
What policy should a commercial organisation with the ubiquity of emails adopt? The answer "Keep them".
Justice Sackville, C7 Federal Court Hearing, September 2006
When 'managing email' means that staff organise business emails in personal folders and email accounts are archived or forwarded to a manager before deletion when an employee leaves, its clear that email management is the elephant in the (board)room.
These practices keep information siloed, so you won't search once for the matter at hand, but multiple times for each individual who may have been involved. They also push the burden of deciding what email is 'important' enough to keep to management (the most expensive resources in your workforce) or IT (who won't necessarily have the business context to make informed decisions).
Although no one wants to plan for the possibility of being involved in legal proceedings, it is a legitimate business risk that can be readily anticipated and mitigated.
How you choose to approach this will be a matter of weighing the risks against potential benefits. Whether you opt for a simple approach using Windows folders, or a complex enterprise content management system, the most important factors in your success will be:
having an agreed file plan, defining the how and where of saving emails that is consistently applied across your business;
making good email management practice part of your company culture – introduce your file plan during new staff induction and educate everyone on the potential consequences of poor email management practice; and
ensuring it is easy to comply! Your file plan shouldn't add to daily workload but rather integrate as seamlessly as possible with existing work flows.
Email is clearly more than simply a messaging platform, and now reaches into each and every aspect of business operations and communication. With the wealth of content locked in email messages ranging from valuable company IP to competitive information and contractual obligations, being able to effectively store, search and retrieve email is vital not only for simple operational efficiency, but also for your protection in any future legal disputes.